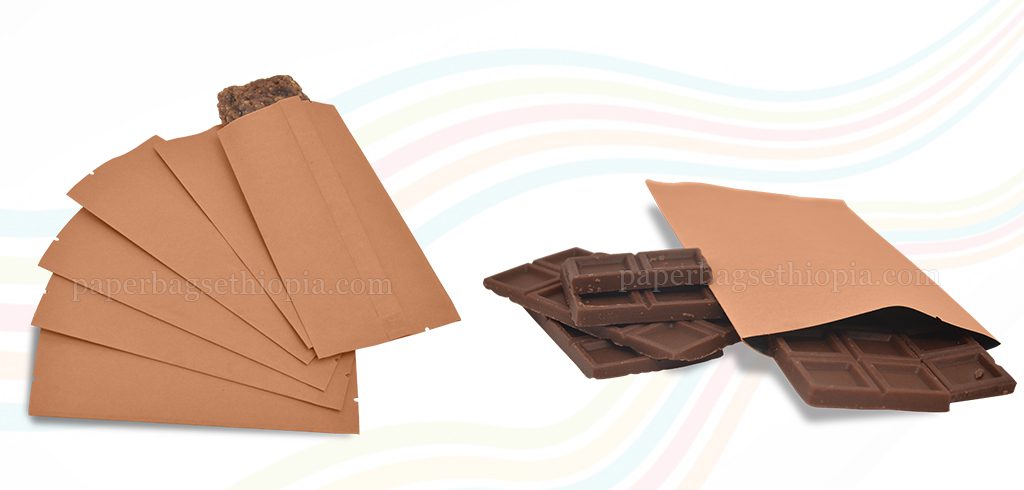 CHOCOLATE BAR PACKAGING
Sweets and chocolate are products the consumer often buys impulsively. For these products it is therefore of extra importance to have a unique design of your chocolate package, that will attract the attention of the customer. Paperbags Ethiopia can provide your company of these packages, specially composed for your product. Of course, you will be assisted by our employees in the designing process.
We offer our chocolate packages in several shapes, sizes and colors to provide an attractive package. In addition we can print your chocolate package with up to a maximum of 9 colors; to achieve this, we make use of the rotogravure printing technique. In general sweets are a heat sensitive product. We take this into account when choosing the packaging material.
For the shape of the chocolate package you have the choice of our full assortment, some examples are the standup pouch, flat bottom bag and twist wrappers. Besides you can add some features to your chocolate package, like:
Zipper
Euro slot
Tear notch
Valve
Hanging holes
Transparent window
With all these possibilities we can produce an attractive chocolate package for you that will attract the customers to impulsively buy your product. May you be interested in any of our chocolate packaging types, we ask you to contact us.
CLICK HERE FOR CUSTOM PRODUCT